This post is dedicated to the most incredible men that I am blessed to have in my life.
First comes hubby. Besides the fact that he is a wonderful father, he is also an amazing husband and best friend. He makes me laugh. I may roll my eyes but deep down I love it. Even now he is breaking them for me, and I can only shake my head and smile. He has been so supportive through times when, if he were smart, should have been running for the hills. I am sure glad he didn't though. They always say you should marry your best friend and I was blessed enough to do so. I often wonder what I did to deserve him.
He has a heart the size of Texas and every time I see him with the boys, I can only hope and pray that they grow up to be just like him. Well, minus a few things but I won't mention them here. Hehe! All you have to do is look at the pictures to see how much he loves his family! Oh, don't let him fool you, even though he said he did it for the kids, he loved the rides!! If I had to hand select my perfect husband and father, I wouldn't change a thing. I love you Babe... Happy Fathers Day!
I may not have the "typical" father daughter relationship that some families have. My dad has always worked really hard, whether he was a teenager, helping support his brothers and sisters when his dad passed away, joining the army to serve his country, or raising a family by hard labor and dedication.
He was always there for me. We used to have a softball catch every day. I was actually pretty good. I played short stop and the first baseman said I threw too hard. My dad told me, if she can't handle it, she shouldn't be playing. At one point, when I wanted to pitch he would actually stand across from me while balls flew over his head and in the bushes, or across the street. He was my number one cheer leader but was also critical when I did something stupid. It shaped who I am.
I remember being sick and him sitting by my side and rubbing my back all night. I remember when I was going through one of the hardest times in my life (health) he would come over every day and spend the day with me while John was at work. He would cut coupons out of the paper for us and would play word searches. He is steady and solid and dependable. He is a rock! (In a good way) He was not my friend, he was my father and I am very thankful for that. I feel sometimes we didn't appreciate enough the sacrifices he made to make sure we were safe, healthy and happy!
There is a song by Holly Dunn called "Daddy's Hands" that personifies him to a tee.
He would do anything for anybody, and if for some odd reason he couldn't, he would find someone that could. He truly has a <3 of Gold.
Below is my all time favorite picture of him!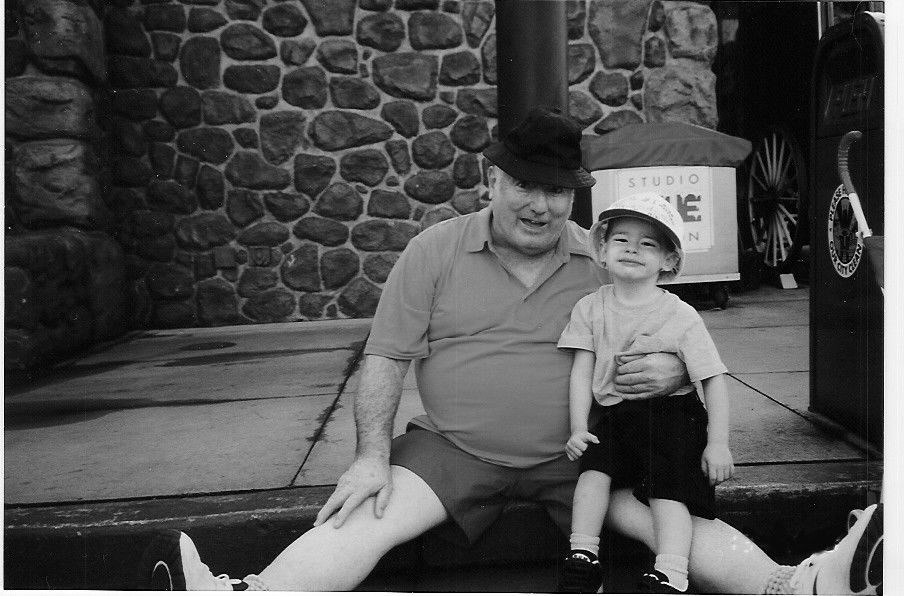 I remember he went to every vacation and even though he didn't go on a single ride, he held our pocket books and diaper bags, while we went on the rides. I remember the boys all running up to him to tell him all about the ride. I love you dad, and although I don't say it as much as I should, Thank You for all that you've done!
~~~~~~~~~~~~~~~~~~~~~~~~~~~~~~~~~~~~~~~~~~~~~~~~~~
Finally, comes my father-in-law. When that word is spoken it is usually with a cringe or roll of the eyes, but in my case it's totally different. From the first moment I called him dad, he held his hands wide open and made me his daughter. I am not sure there is a better gift to a daughter-in-law than acceptance and unconditional love, and he's given both in abundance. He's opened his heart and more recently his home to us and I will never forget that gift.
I Love you, Papa Bear! Happy Fathers Day!!
Sorry Papa Bear, I couldn't resist!!